As I explained in a previous post, one of the main reasons for going to India was to discover more about Mark's family history.
Mark's paternal grandfather, James Dorrofield Wade, spent his early life on a farm, but, in 1916, at the age of 17, he enlisted with the Royal Fusiliers in Colchester. He completed his training in Falmouth and Dover, but was not old enough to serve on the front line, so he was put on Class 2 Army Reserve and sent home. Nine months later, he was recalled to the 7th Batallion Royal Fusiliers and posted to France. He survived the First World War and was demobbed in 1919, but he missed the army life, so, on 29th May 1920, he re-enlisted with the Suffolk Regiment in Bury St. Edmunds. His army career was to last for another 26 years. He endured four years as a prisoner of war on the infamous Burma railway and ended his days as a Chelsea Pensioner. The part of his life we were interested in on this trip, though, came much earlier.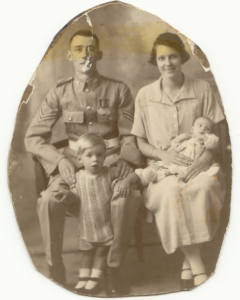 In 1922, James Dorrofield Wade was posted to India and found himself stationed at Wellington Barracks in the Nilgiri Hills, Tamil Nadu.  In 1923, he met and married childrens' nanny, Helen Turton, who had herself been born in India, in Bengal.  The following year, Mark's Dad, James Richard Wade (known to everyone as Dick), was born in Wellington, followed two years later by his sister, Cynthia.
In 1929, James, along with his wife and young family, was living in married quarters in Secunderabad, near Hyderabad.  A decision had to be made about Dick's schooling.  His Mum, Helen, and her two sisters, had been sent to boarding school following their mother's death in 1902.  The school they had gone to was St. Lawrence School, Lovedale, located not far from Wellington, where Dick was born.  So, it was decided that Dick should go there, which is how he found himself, at the age of six, on the Nilgiri Mountain Railway, for the first of many journeys to and from school.  Dick spent ten years at Lovedale and was joined there for four of them by his sister, Cynthia.  In later life, they both spoke very fondly of their time at the school.
So, the main focus of our time in Coonoor was to visit Lovedale, to try to find the church where James and Helen were married (and where Dick was baptised), and, if at all possible, to visit the barracks in Wellington.
Before travelling to India, I had sent an e-mail to Lovedale School asking if there were any records of Dick, Cynthia, Helen or her sisters, and, whether there were or not, if we could arrange a visit.  I had had a lovely reply from Joseph John (aka Jojo), telling me that there were, indeed, entries for all of them in the admissions register, and that we would be more than welcome to come to the school.  So, we had arranged a mutually convenient date and time.
On the appointed day, our host in Coonoor, Harsha, arranged transport to take us to St. Lawrence School, Lovedale.  We were both excited and trepidatious at the prospect of finally seeing the place Dick had spoken of so much.  When we reached, and passed, Lovedale Station, we knew we were driving the route Dick would have walked to school.  It would've been quite a hike for a small boy!!
Our first sight of St. Lawrence School, Lovedale was of the gatehouse and the guard on duty.  We told him who we were and Mark had to sign in for both of us.  We then drove through the gates, up the broad, sweeping drive, and got our first view of the school in all its glory!  WOW!! We had no idea it was so impressive, so grand, so elegant with its majestic clocktower and perfectly manicured lawns.  Dick had never mentioned what an amazing building it was, but, as we were to learn, for him it was just 'home'.
We parked and another guard pointed us in the direction of where we needed to go.  As we set off, a very distinguished looking Joseph John (Jojo), dressed in a dapper suit and pork pie hat, came out to meet us.  He was so warm and friendly and couldn't have been more helpful.  As we stood in the morning sunshine, he told us something of the history of the school and the way it works today. The school campus covers 750 acres.  Much of it is forested land, but there are also superb facilities to match those of any of the top boarding schools in the UK.  There are separate school buildings for prepatory, junior and senior students, a 140-bed hospital, a sports stadium, a badminton building housing a dozen courts, tennis courts, stables with 25 horses, a church, and a library.  The school is run under the aegis of the Government of India to an Indian curriculum entirely delivered in English, but it receives no funding from them, so relies on donations from former students to maintain the stunning buildings and grounds.
Jojo himself attended the school between 1970 and 1979 and, after a career in the commercial sector, returned to work at Lovedale.  He introduced us to the headmistress and the bursar, both of whom were also very welcoming.  They encouraged us to send them any photos or memoirs we may have as they are in the process of building a school archive.
Jojo then took us into the school up the staircase which he told us Dick would have used to get to assembly every morning!  We saw the school hall and dining room and several classrooms.  We then went to have tea on the lawn with some of the masters and senior boys, before going to Jojo's office where we were shown the original records of admission for Dick, Cynthia, Mark's nan, Great Auntie Louie and Great Auntie Dolly.  We learned some fascinating snippets of information to add to the family history, including the fact that Cynthia was withdrawn from the school after less than three years, at the age of just 11, because 'her mother wanted her nearer home'.  This seems especially surprising as her Mum, Helen, and her two sisters all remained at Lovedale until they were 18.  Dick left school at the age of 14 as he had enlisted as a boy soldier.  His Lovedale record gives the name of the ship which took him to England for training as the RS Chepstow.  This is different from Dick's own account of the vessel he was on. Further research is needed, I feel!
Jojo also gave us details of a Lovedale group in the UK, as well as the phone number of Deidre, an anglo-Indian lady who he thought might be able to help us gain access to Wellington Barracks.
Jojo then encouraged us to explore on our own and to take as many photos as we wished.  We said goodbye to him on the lawns in front of the school and thanked him profusely for his help and hospitality.  We left Lovedale with a greater understanding of why Dick loved the place so much and regretting the fact that we had not visited sooner so that we could have gone back and told him all about it.
After a break for lunch at the upmarket and very Western restaurant, 'Culinarium' (chicken and vegetable pie anyone?), we drove on to Wellington Cantonement.  On the way, I called Deidre, but, unfortunately, she had a prior appointment so couldn't meet us.  I had tracked down a record of Mark's grandparents' marriage online, so we knew they had wed in St. George's Church, Wellington. Harsha had contacted a vicar friend of hers who had put her in touch with the caretaker there, Simpson, so we were able to have a good look around and sign the visitors' book.  This is also the church where Dick was christened, so it was lovely to stand by the font and picture that occasion all those years before.
From the church, we drove to the entrance to Wellington Barracks and got out to take some pictures.  We took a photo of the sign showing when the Suffolk Regiment had been garrisoned there and a soldier on guard duty, going against reguations, kindly allowed us to take a couple of snaps of the barracks themselves through the bars of the entrance gate.  This was as close as we were going to get as the barracks are currently home to the Madras Regiment of the Indian Army.
Back in the car, Deidre called me back.  She'd been trying to get us access to the barracks, but had failed.  She told us that there are plans to open a museum outside of the barracks within the next year or two, which will allow free access to foreigners and which will house the original records pertaining to the British Army's time there.  If that happens, we'll have to revisit!
During our conversation with Deidre, we discovered that her father, Colonel Wright, attended Lovedale School and was most probably in the same year as Dick.  Perhaps they were friends?  We have no way of knowing.
All in all, our day on the trail of Mark's family history surpassed all our expectations and we have memories that will stay with us forever.